How does the HairStemcell transplant work?
In a Hair Stem Cell Transplantation, the HST method, we do not remove the entire hair follicle, but a number of hair stem cells remain in the donor area. As a result, regrowth of the hair also takes place there.
During a treatment, parts of hair follicles are harvested with a needle. Our innovative hair transplantation technique makes it possible to leave hair stem cells in the donor area and at the same time extract them for transplantation in the receiving area. The follicles are able to grow new hairs.
Because the hair follicle is split with a very small needle and is then extracted (removed from the scalp), this method has the advantage that the grafts are much smaller compared to the conventional hair transplant techniques. The result is a higher hair density with a much more natural look look and especially a perfect hairline.
By removing only part of the hair follicle and the stem cells, the remaining and displaced hair stem cells both form new hair within a few weeks. This is hair of the same quality as the other hairs. After a full hair growth cycle of 9 months, the final result is visible.
HairStemcell transplant is virtually painless

At Hair Science Institute we rather talk about a treatment instead of a transplantation.
DONOR AREA
DIRECTLY AFTER EXTRACTION
GRAFTS FROM
DONOR AREA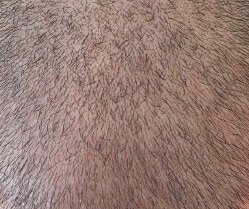 DETAILED PHOTO
DONOR AREA 9 MONTHS
AFTER TREATMENT
HairStemcell transplantation, a patented and sophisticated technique
Researcher Coen Gho has conducted fundamental research on hair transplantation since 1996. His studies have found that different parts of the hair follicle contain stem cells that can stimulate hair growth. These studies formed the basis of the hair multiplication techniques used by Hair Science Institute, such as hair stem cell transplantation.
The HSI method is a hair stem cell transplant method that utilizes the potential of stem cells. This technique was developed by Hair Science Institute and is used worldwide in our clinics in Amsterdam, Maastricht, Cap d'Antibes, London, Jakarta and Riyadh.
A HSI HairStemcell transplant is only performed in certified Hair Science Institute clinics, where technicians and physicians are trained by the Hair Science Academy.